Who doesn't love a winter burger?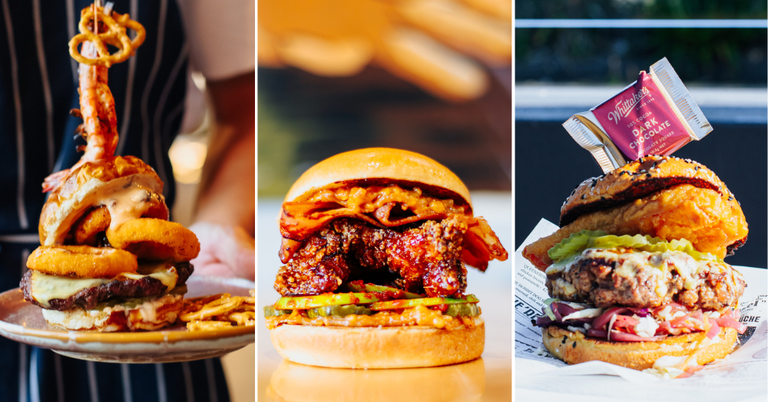 The offerings in Porirua for Visa Wellington on a Plate's scrumptious competition – Burger Wellington, presented by Garage Project – will have your mouth watering just thinking about them, and give you the chance to check out some of our fantastic eateries while you're at it.
This year, 11 Porirua venues are giving you burger options as part of WOAP – only available from 11 to 27 August – and there is a regional title on the line for best burger.
Here are the temptings, ranging from $16 to $29:
Columbus Coffee (Mitre 10 Mega) – Chick Chick Boom
Regular (17a Parumoana St) – Chunky Korean
Supply Room (Mana) – Holy Mole
Sushil's Musclechef Kitchen (Aotea) – Ind-ulge
Get Fixed Bicycle Café (Porirua waterfront) – Kibbeh You
Dirty Little Trucker (20 Parumoana St, city centre) – Not-ella
Sandbar Mana – One of Cheese Days
Whitby Co-op – Patty & Prawn
t bay café – The Hot Chick
The Kaarage Kid Porirua (20a Parumoana St) – The Kamikaze Nutter!
Nish Café (Whitby shops) – Tommy's
Porirua Mayor Anita Baker says it's important to keep the excellent impetus that has built up for love local going, so use the opportunity to get out and about as the grills are fired up for this competition.
"It's a great time of year to be doing this and we want to be supporting the fantastic places we have to eat in our city.
"Porirua is becoming well-known for eating options, and Visa Wellington on a Plate just seems to give more opportunities for us to try local. The hospo talent we have in Porirua is getting us a real positive reputation," Mayor Baker says.
Go to visawoap.com and search for Porirua to check out these burger delights. You can vote for your favourite at each venue or online.
31 Jul 2023