Young leaders honoured in Porirua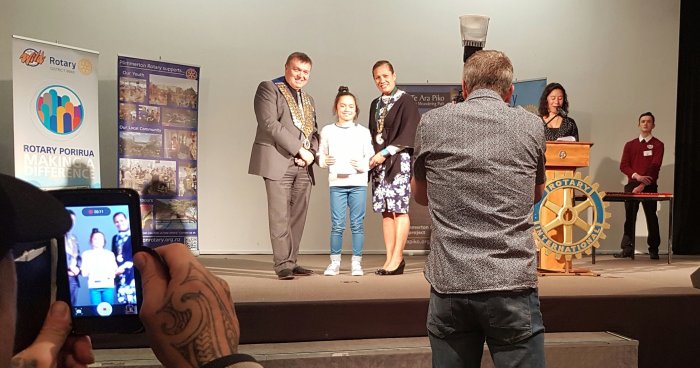 Above: The spotlight's on Porirua School's Serenity Martin as she receives her award from Rotary District Governor Mitchell Brown, Porirua Deputy Mayor Izzy Ford and Councillor 'Ana Coffey in front of proud whanau and supporters. 
Porirua's young future leaders were honoured today for going the extra mile to serve their schools and the community.
The Rotary Clubs of Porirua and Porirua City Council presented Primary School Leadership Awards to 58 local school children at a ceremony at Elim Church.
The awards were presented by Porirua Deputy Mayor Izzy Ford, who said it was great to see so many wonderful young people being celebrated.
"With these kids as the future of our city, we're in good hands," she said.
"They're amazing role models for their peers and lead by example - not only through their achievements but also by showing integrity, determination and kindness.
"One of our priorities in Porirua City is having tamariki and rangitahi at the centre of city decisions, so we're very happy to be celebrating these students today. And I'm proud to see how many of them are being honoured for the way they treat others."
The children were selected by principals from primary schools throughout Porirua. Two senior students from each school were chosen based on leadership, service above self, and being role models.
The students had been involved in a range of activities including student councils, organising fundraising or leading dance, sporting or cultural groups.
Mana MP Kris Faafoi, who attended today's ceremony, said this exceptional group of young people were leading the way.
"I'm really heartened to look at testimonials of each recipient and see that they're all doing such a great job of leading in diverse areas.
"These young leaders are setting a great foundation on environmental issues, enjoying different cultures, helping those in our community who need assistance and importantly their fellow friends at school.
"I agree with our Deputy Mayor, our city will be in great shape in the future with these young leaders at the helm."
____________________________________________________________________________________________
Award recipients 
Adventure School – Gemma Lovewell and Arene Landon-Lane

Bishop Viard College - Wendy-Dawn Faraimo and Mannfred Sofara

Brandon Intermediate – Va'a Taulapapa and Sheila Tui

Cannons Creek School – Jade Schwalger and Breana  Nepia Te Hau

Corinna School - Claudia Suailua and Analia Fa'aumu

Discovery School - Rhian O'Connell and Leo Enoka

Glenview School - Victoria Jing Hkang and Temalo Fa'auga

Holy Family School – Vanessa Kamsaengsai and Marley Oloapu-Atoni

Maraeroa School – Ranfurly de Thierry and Hunter Gaualofa

Natone Park School - Paris-Hayze Robinson and Ropati Neti 

Ngāti Toa School – Beau-Wehi Rei and Sarah Mangu

Papakowhai School – Zoe Ford and Jarrod McKee

Paremata School - Tanika Lawrence and Harry Newland

Pāuatahanui School – Emie Kearney and Alexander Bateman

Plimmerton School – Zoe Ham and Jessica McManaway 

Porirua School – Serenity Martin and Tane Neho-Laupama  

Postgate School – Punipuao Allan and Leilani Pedro

Pukerua Bay School – Isaac du Toit and Devlin Hilliard

Rangikura School - Acosta Tolai and Molly Beek

Russell School - Tina Ah Fa and Solomon Pule 

St Pius X School - Kimora-Lee Umaga-Marshall and Naylan Murray-Leaupepe 

St Theresa's School – Toby Carter and Belle Croasdale

Samuel Marsden Collegiate School - Ruby-Rose Scott and Meg Kelly

Te Kura Maori o Porirua - Trinity Gear and Estienne-Jane Boladuadua 

Titahi Bay School – Arana Cronin-Stone and Tumanako Waa

Titahi Bay Intermediate – Jack Chapman and Rosa Stratford 

Titahi Bay North School – Javarn Waters Tautuhi and Sapphire Morgan Ruwhiu 

Wellington Seventh Day Adventist School – Monisa Ng Lam and Monica Ng Lam

Windley School – Kelisione Baker and Jayliz Brown-Risati

4 Sep 2017