Zero waste hits the mark at Waitangi Day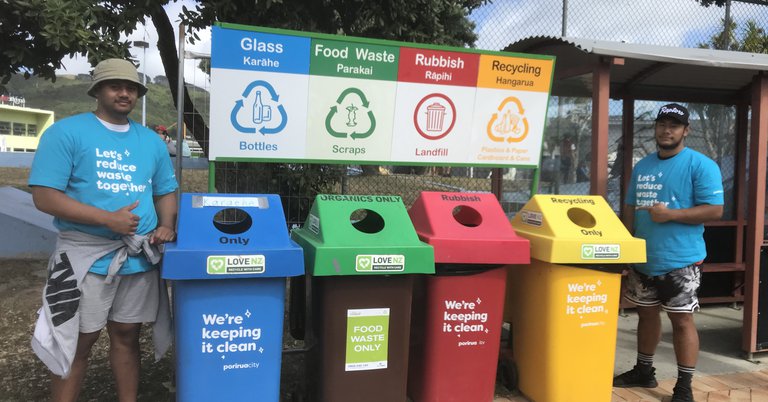 Porirua City Council's commitment to zero waste was no more evident than at Waitangi Day last month.
The huge event, held at Te Rauparaha Park, attracted thousands of local residents, and visitors from outside the city, for a day of music, entertainment and food.
With 25 food trucks, the pressure was on the waste minimisation side of the event, but Dee Jones, Porirua City Zero Waste Co-ordinator, says some vendors were right on board.
"We trialled Wash against Waste this year and three of the food trucks used reusable and real crockery and cutlery, washing more 400 items," she says.
"It's a great start and we want this to be the attitude in the future, at all the events the Council is involved in."
Along with providing bins for diverting food waste and compostable packaging and recycling from rubbish, there were also waste stations on Te Rauparaha Park for the public to utilise. Last year, 69 per cent of items were diverted from the landfill – this year it was 86 per cent.
The efforts on Waitangi Day were supported by Para Kore Marae Incorporated – a not-for-profit organisation dedicated to delivering waste minimisation education and training – and Wellington Samoan Seventh Day Adventist Church.
Te Kawa Robb from Para Kore said there was great feedback from the public on the day.
"There seems to be an improved understanding today about what goes into the bin," he says.
Will Thompson from Tommo's Low 'n Slow Barbecue said the Wash against Waste initiative worked "seamlessly" for his food truck, and they especially loved the plates given to them for the day.
"We were well-entertained by the interesting and ornate plates, engaging with our customers and making a game of it," he says.
"Giving big burly blokes a massive feed of ribs on dainty floral plates was funny as. A solid 10 out of 10 on this programme from me, it was a pleasure all round to be involved."
Ms Jones says the Council had waste minimisation initiatives at a number of recent events, including Children's Day, Creekfest and Waitangi Day.
"We want more stalls and food trucks in Wash against Waste, and reducing the number of single-use coffee and chip cups even further."
6 Mar 2020