If it's surfing or fun in the waves you're after, you can't go past Titahi Bay. Or for a relaxing family vibe, there are plenty of options for a safe day out with the kids. Our west coast sunsets are epic so make an evening picnic or fish 'n' chips part of the plan.
Just a 20-minute drive from Wellington City? Check out a beach which suits you.
A perfect spot in Porirua City. Cruise around the inlet towards Pāuatahanui and you'll pass Ivey Bay and Browns Bay, two safe, shallow paddling beaches on mud flats, perfect for those sunny days. Drive around the inlet towards Pāuatahanui on Paremata Road, Mana, click here for google maps. Drive further along Paremata Road to reach Browns Bay.
Perfect for: swimming (great for young children as there is a mud bottom), picnics (there is also a great coffee cart in Browns Bay), kayaking and launching small boats and exploring the mudflats at low tide.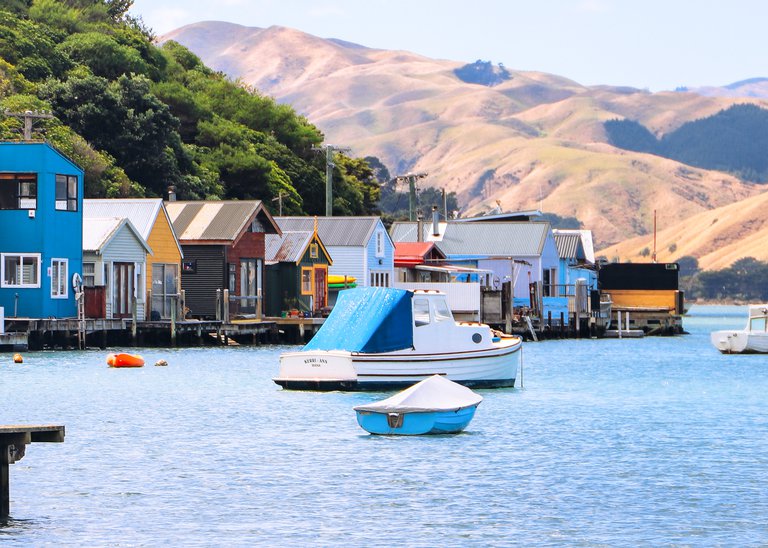 Iconic boatsheds
At the western end of the inlet you'll find the beautiful Camborne Walkway. This sheltered walk hugs the shores of the inlet and takes you past the colourful, iconic Camborne boatsheds. On the right day the water is like glass, making this a lovely spot for calm reflection.
This beach in Plimmerton is a mix of sand and rock pools and a much-loved safe swimming spot for families. About a 4km drive from the Plimmerton turnoff, this small, sandy beach has toilets/changing facilities at its northern end.
Perfect for: swimming, sailing and launching a boat.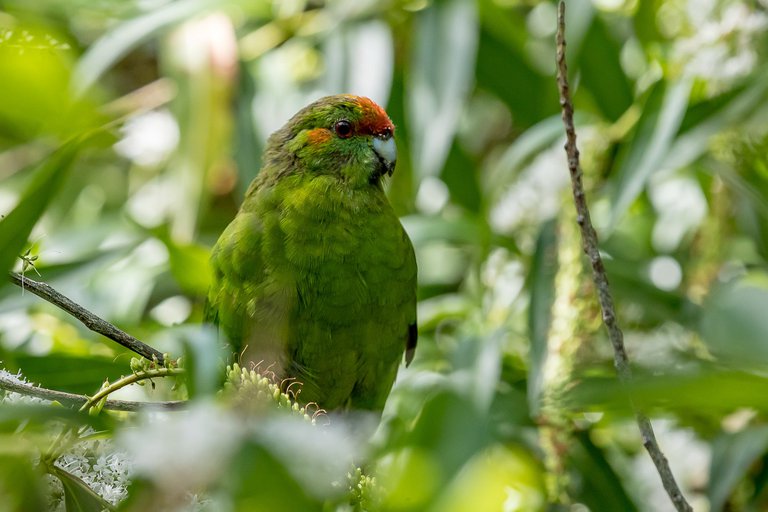 Mana Island
A day trip to the predator-free Mana Island is a fun adventure for the whole whānau. Experience the island's wildlife and learn about the ongoing restoration work, all this with unbeatable views to Kāpiti Island and the South Island! manaisland.org.nz
With some of the most breathtaking views all the way to the South Island, this beach is one of Porirua City's best-kept secrets (whoops, secret's out). A safe, flat beach that is easily accessible for everyone.
Perfect for: Swimming, snorkelling, windsurfing, kite surfing, stand up paddle boarding, fishing, picnics, walking and mountain biking.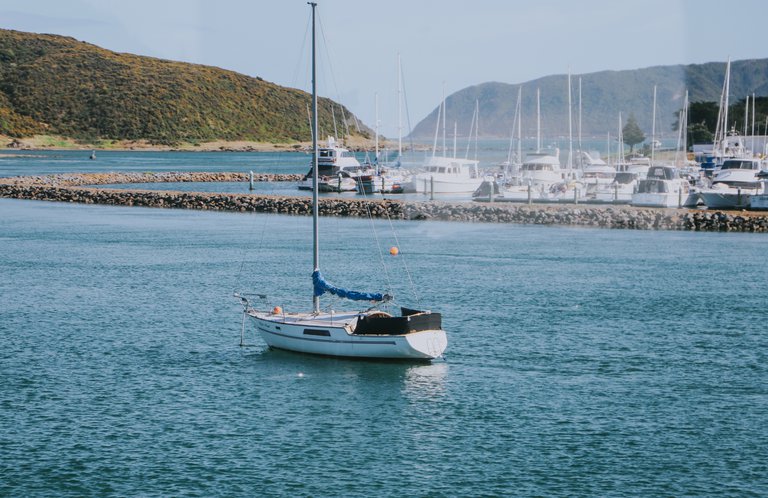 Launch your boat
The waters around Porirua are a popular playground for boaties with public launching facilities at Pukerua Bay, Karehana Bay, Paremata, Onepoto and Titahi Bay Beach. Plimmerton Boating Club and Mana Marina offer great facilities that members can take advantage of before, or after heading out to sea.
Close to the main highway at Paremata this beach is very popular as a launching pad for water sports.
Perfect for: swimming (and jumping off the short jetty), picnics, walking along the beach and water sports (there's a public boat launching facility on the north side).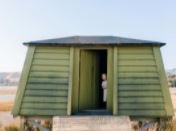 A day full of fun at the Pāuatahanui Inlet
With stunning views, significant wildlife, meandering walks and a country village vibe, the Pāuatahanui Inlet really has it all. This is the perfect location to get back to nature.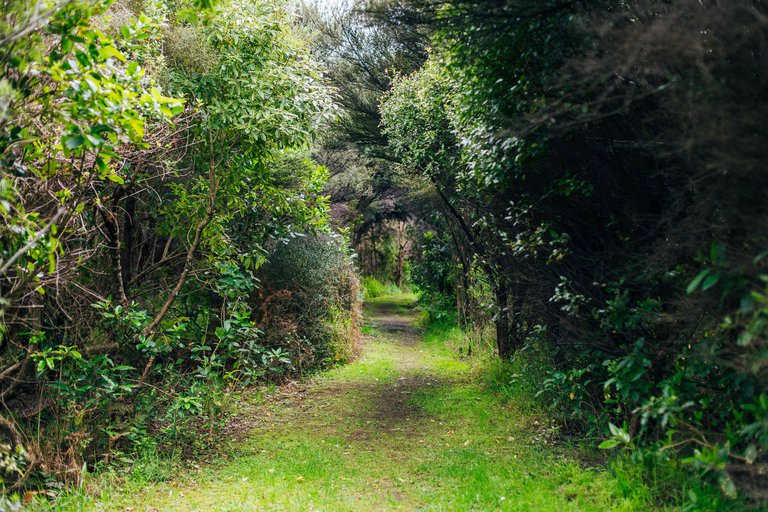 Strolls at the Inlet
With its meandering walkway that is safe and accessible, it's easy to get close to nature at the Pāuatahanui Inlet. The wildlife reserve is home to native plants and birds and you may even spot a mud crab in the water!
Just a short stroll from the Plimmerton railway station, this beach is very popular in summer and for anyone looking for some peace and tranquility.
Perfect for: swimming (particularly for families with young children), windsurfing (with a dedicated area at the southern end), walking the length of the beach while watching the sunset and enjoying fish and chips from the local chippy.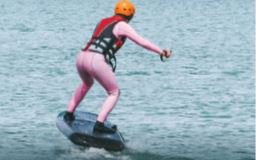 Fun with eFoiling
An eFoil is a surfboard that acts like a hoverboard for the water. It's easy-touse, safe and environmentally friendly and the fun never stops. Interested? Get in touch with Aquafoil in Porirua aquafoil.co.nz
Looking out toward Kapiti Island, Pukerua Beach is the perfect getaway during a southerly. An awesome beach for long walks, swimming and rock-hopping. Don't miss the Pou Tangaroa carving on the foreshore. There are toilet/changing facilities and limited parking.
Perfect for: swimming, surfing and exploring (especially around Brendan's Beach reserve at the eastern end).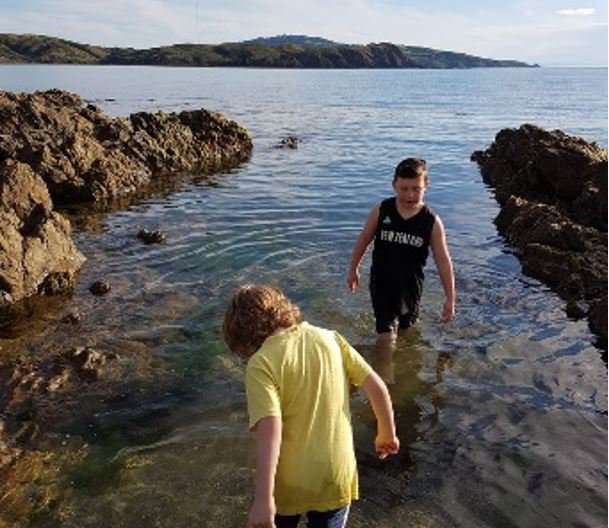 Rock pools
Karehana Bay
This beach in Plimmerton is a mix of sand and rock pools and a much-loved safe swimming spot for families.
Pukerua Bay
An awesome beach for long walks, swimming and rock-hopping. Don't miss the Pou Tangaroa carving on the foreshore.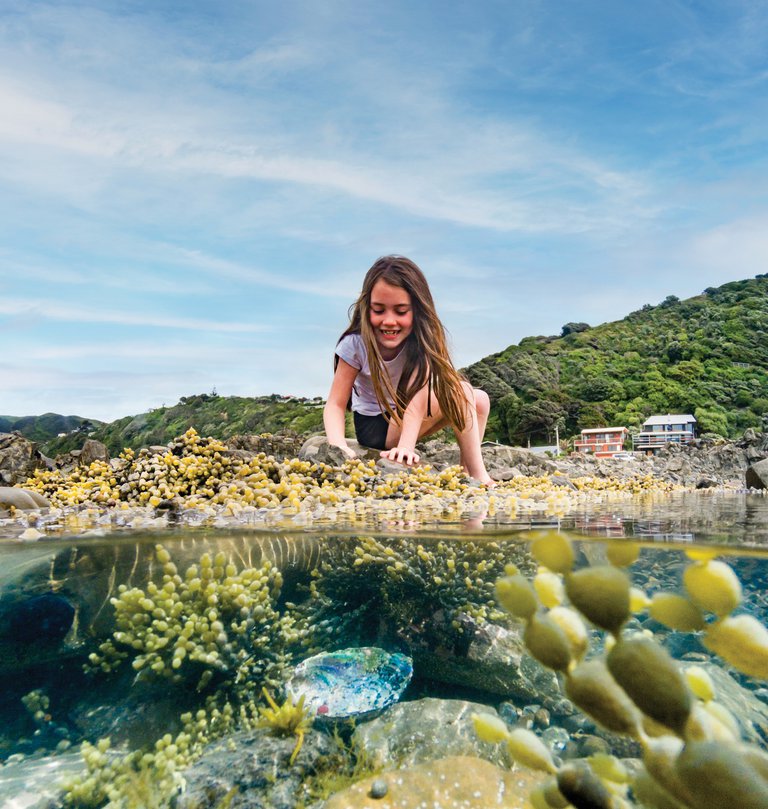 Grab your snorkel
Explore our underwater world around the rocks of Titahi Bay, Pukerua Bay, Onehunga Bay and Karehana Bay. See if you can spot fish, shells, starfish and if you're lucky, seahorses! Please don't touch or disturb our special species and take only memories
Swimmers, surfers and beach walkers love this popular beach, and lifeguards are on duty to keep everyone safe. Just 4km from the centre of Porirua, Titahi Bay is a very popular, sheltered beach that has great facilities including a playground, carpark, and toilet/changing facilities. Surf lifeguards patrol the beach over summer.
Perfect for: swimming, learning to surf, picnics and BBQs and walking the dog (especially around Stuart Park).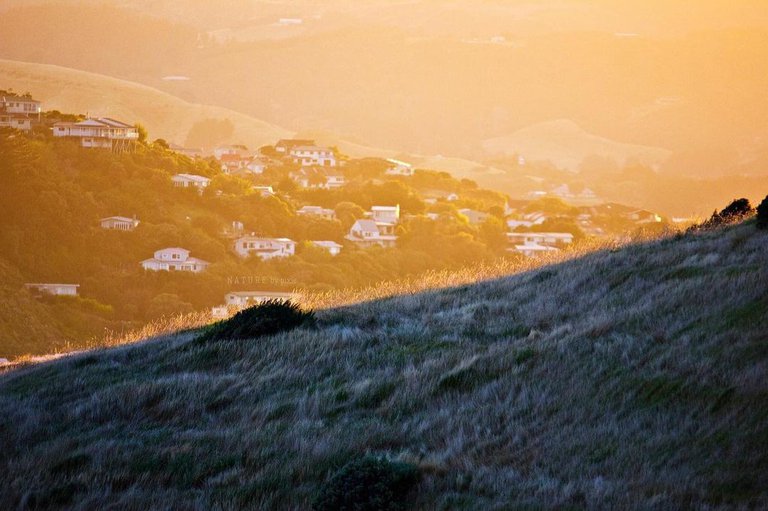 Sunsets
Watch a beautiful sunset at one of our many beaches. This sunset was captured in Titahi Bay looking towards Camborne.
And rest assured, all our beaches are tested weekly from November to March to ensure the water is safe for swimming (see the latest results).