Council wrap - 20 July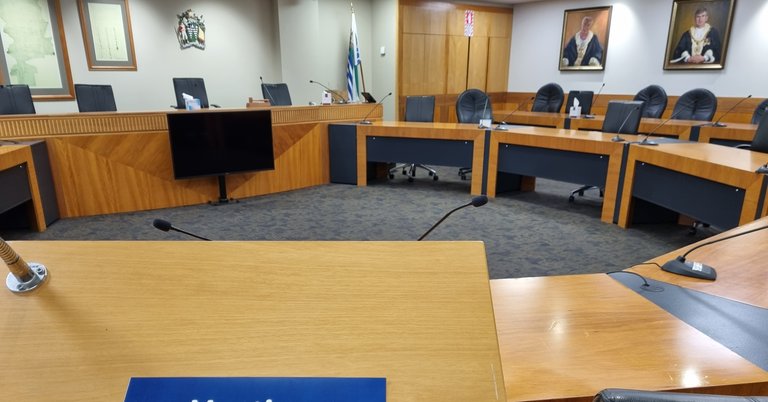 The full Council met this morning, Thursday 20 July.
Here is a wrap of the meeting:
Porirua Mayor Anita Baker outlined her activities in the past month, including involvement in Matariki celebrations; welcoming 53 residents as part of a citizenship ceremony; she and Porirua City Council Chief Executive Wendy Walker meeting with Green Party Co-leader Marama Davidson to go over the city's Status of Children and Young People Report; a flag raising to mark Kiribati Language Week; attending a pōwhiri to welcome the South Africa football team for the FIFA Women's World Cup 2023; and this week's Wellington Airport Community Awards.
Council confirmed recommendations from the committee meetings held since the last Council meeting on 29 June.
Council then received a debrief report on the 2022 Local Body Elections. They agreed to all the recommendations in the report, excluding continuing with the use of the Single Transferrable Vote (STV) voting system for future elections, which will be discussed at a later date. Councillor Mike Duncan questioned the efficacy of the system and mentioned that there was support for using the First Past the Post (FPP) system instead. Mayor Baker noted that a decision could not be made on this recommendation without all councillors in attendance, so it will be presented again at the next full Council meeting.
Next on the agenda was receiving and endorsing Council's Long-term Plan Strategic Framework 2024-54, including slightly revised strategic priorities.
Finally, Council agreed to all the recommendations in a report on Local Government New Zealand Remits for 2023 but changed one action to support Audit NZ fees for Whanganui District Council.
There were no speakers in the public forum.
You can read the agenda and full reports here or watch the livestream of the meeting here: https://www.youtube.com/watch?v=ASsJOHnZZUo&list=PL0COG4gbk0tPfy1qd1PdNRlklIUSkQzKh&index=1
On the meetings page of our website you can also see what meetings are coming up, with agendas posted a few days before each meeting. The public is welcome to attend most meetings and they are also livestreamed.
20 Jul 2023