E-scooter ride share coming to Porirua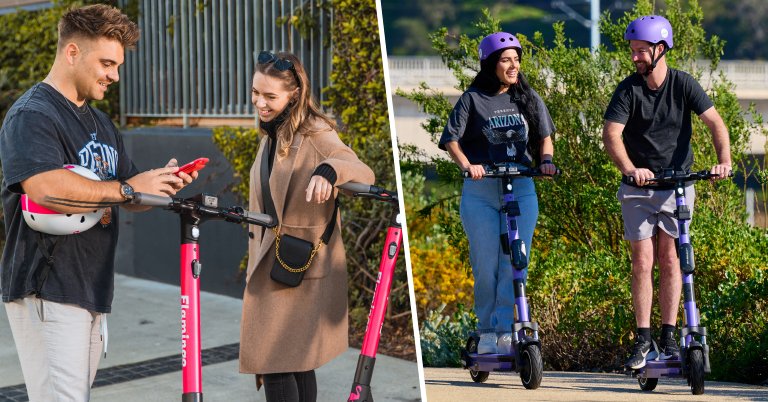 Porirua City is joining many other New Zealand cities by introducing e-scooters as another option for residents to get around.
E-scooter operators Beam and Flamingo will initially be providing 200 scooters each as part of a two-year trial starting in Porirua from Thursday 27 April.
"We're very excited to partner with Beam and Flamingo to offer an affordable, low-carbon transport option to Porirua City residents," says Porirua Mayor Anita Baker.
"The successful introduction of these schemes in cities such as Wellington, Palmerston North and Hutt City show that they have become a popular and well-known transport option."
The scooters will be available to hire and use across Porirua and Tawa.
"We know many Porirua people are already familiar with e-scooter ride share schemes, with thousands of the city's residents already signed up with Flamingo or Beam," says Mayor Baker.
"Providing the e-scooters in Porirua gives those who use the train another option for returning home after work or a day in Wellington."
Flamingo co-founder and chief executive Jacksen Love says they are thrilled to be extending their network by offering Porirua residents a "first and last mile transport option that reduces reliance on cars, eases congestion on roads and helps people get around in an environmentally friendly way".
Beam Operations Manager Jackson Jebasalvan says they look forward to providing Porirua residents with the option to leave their cars at home and hop on an e-scooter instead.
"We know that bringing a new mode of transport to the streets brings change for everyone – pedestrians, drivers, and the broader community, and look forward to engaging with local community and stakeholders to ensure a viable means of transport for all."
The e-scooters are equipped with GPS technology which enable a range of safety measures to be applied to use, such as the inclusion of speed limits and no-riding zones in some of Porirua's busier pedestrian areas.
Measures will be put in place to avoid e-scooters being dropped off close to streams and the harbour, or private properties. Beam and Flamingo will be alerted if an e-scooter is left in a banned or restricted area and will be responsible for collecting them.
Both operators will establish teams in Porirua to help educate users about proper, safe use of the e-scooters, especially when they are initially introduced.
The operators will also fund and carry out an education campaign when the trial begins.
More information about the trial can be found on this Council webpage, while the operators' apps also contain details about pricing and rules for use.
24 Apr 2023