Grade 5 plastic can now be recycled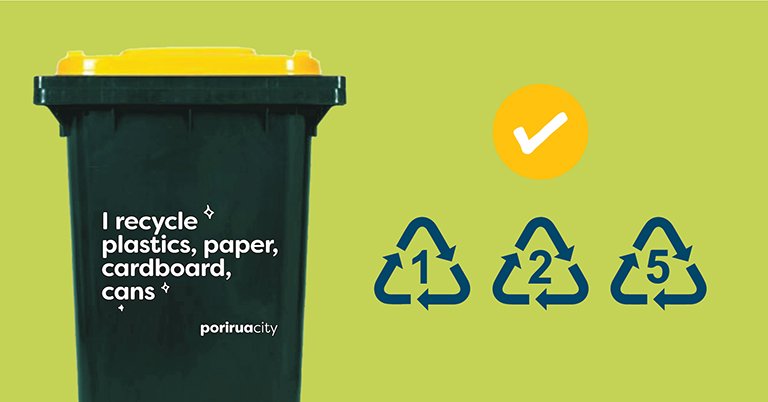 Grade 5 plastics have now been added to Porirua's kerbside recycling collection and bulk recycling facility at Spicer Landfill.
This type of plastic was initially excluded from our city's plastics recycling in early 2020 as Oji, the sorting company that takes the recycling, did not have the space to process it.
"We were informed recently that Oji now has capacity to accept Porirua City's grade 5 plastics, which will no doubt come as a relief to many residents," says Porirua City Water and Waste Manager David Down.
Many everyday items are made from grade 5 plastics, such as most yoghurt, margarine, ice cream and takeaway containers, and plastic plant pots.
Similar to other plastics, just look for the number 5 recycling symbol to see if it's eligible to go in your yellow recycling bin. If there's no symbol at all, it's best to leave it out.
Also, remember to remove all lids and rinse or wipe clean any items destined for the recycling bin or bulk recycling facility.
What can I recycle?
Items that can placed in your yellow recycling bin includes:
Plastics with 1, 2 or 5 on it, with all lids removed
Aluminium and tin cans, with the lids tucked inside
Paper
Clean and dry cardboard
Items that can be placed in your blue recycling bin includes:
Glass bottles or jars, with all lids removed
Tetra Pak cartons can now also be recycled at the bulk recycling facility at Spicer Landfill after they have been opened up and rinsed clean.
This material is used to create a sustainable building material called saveBOARD. It is made by compressing chipped waste material from the used cartons.
Check out the Rubbish & Recycling page at poriruacity.govt.nz for more information and helpful tips about ways you can reduce waste and reuse items instead of throwing them out.
30 Oct 2022