New recycling bins better for Porirua and the planet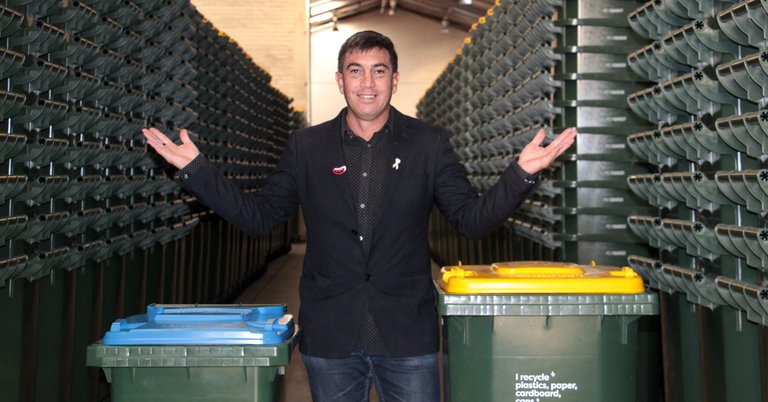 Recycling blowing around the streets of Porirua should be a thing of the past from July when wheelie bins – complete with a clip to keep the bins' lids closed – replace crates for kerbside recycling.
Porirua City Council will provide each household with two bins – a 240 litre bin for mixed recycling, and a 140 litre bin for glass. The mixed recycling will be collected every two weeks and glass every four weeks.
The mixed recycling bins – for plastic containers, cans, paper and cardboard – come fitted with a cleverly designed clip to keep the lid closed even if the bin falls over, but which opens automatically when the truck picks up the bin to empty it.  Porirua is the first council in New Zealand to use this SafeWaste bin latch system on all its bins.
"Our people have told us they don't like the way recycling ends up blowing around the streets on windy days, and neither do we – so these new bins are going to be a great way to combat that," says Porirua Mayor Mike Tana.
"Items that blow out of bins are not only unsightly, they can block stormwater drains or end up in our harbour or waterways. So we're really excited about the change to wheelie bins which will be better for Porirua and better for the planet."
The bins will be easy to keep track of with unique codes linking the bins to each property, and the pick-up schedule will mean less trucks on the road which is better for the environment and for residents.
Recycling will be easier for most residents, with no need to bundle anything and no lifting of heavy crates.
"We're aware that the new service will be less convenient for a few, but for the majority of residents the bins will be a welcome improvement, " Mayor Tana says.
"With any new service there will be the odd issue that crops up and we're happy to work through these and look for solutions where possible."
The bins will be delivered around the city gradually from next week [eds: mid-May].
"We've got around 18,000 households in Porirua, so with two bins each that's a whopping 36,000 bins to deliver – so don't worry if yours aren't there straight away, they'll be with you before the new service begins in July," Mayor Tana says.
Until July people should keep using their crates as usual.
Along with the bins, households will get a calendar showing which weeks to put their bins out, and handy information on what can be put in the bins.
The new bins are a great chance for people to increase the amount they recycle and keep rubbish out of landfills, Mayor Tana says.
"Let's all do our bit for Porirua and the planet."
Once collected from the kerb the recycling is sorted at a recycling plant in Seaview. From there the items are recycled locally and internationally. At the moment paper, cardboard, glass and cans are recycled in New Zealand, while most plastic is recycled overseas.
For more information see our recycling page.
8 May 2018