Porirua City cuts back on watering to help conserve water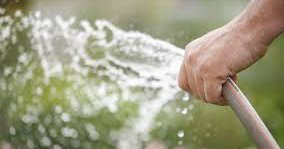 Porirua City is cutting back on watering parks, lawns and gardens following the household sprinkler and irrigation ban imposed by Wellington Water across the region.

That means you'll see some of our parks and reserves quickly browning off, says Chief Operating Officer Tamsin Evans.
The ban means households cannot use a sprinkler or unattended watering system at any time. However careful watering by hand at any time is still ok at the moment.
While the water ban doesn't include Councils, Porirua City is cutting back where possible.
"This is a difficult challenge. We want to do the right thing and conserve water as much as possible but at the same time we have recently invested in upgrading three of our key sports fields; Porirua Park, Endeavour Park and Ngāti Toa Domain, so we need to keep watering to ensure the grass establishes properly.
"Loss of condition would jeopardise the playing surfaces for winter and we'd face significant renovation costs to bring them back up to playing standard."
Porirua Park and Endeavour Park have in-ground irrigation systems which will operate at night. Ngāti Toa Domain has no permanent irrigation systems and will be watered morning and evening by a mobile/travelling irrigator.
At our nursery, careful watering will be done during cooler times of the day to protect the young plants we're growing for next winter's planting season.
We're also cut back on watering our high-profile gardens, such as Gear Homestead and Aotea Lagoon, to every second day," says Ms Evans.
30 Nov 2017