Just off State Highway 1 in Papakōwhai, Aotea Lagoon features a huge playground complete with a separate toddlers' area, picnic and BBQ areas, and a petanque court. The lagoon is a great spot for families to enjoy the sunshine and is wheelchair and buggy friendly, and is regularly used by joggers.  
Open from 9 am daily, families can bring a picnic, umbrella and blanket, and spend the day having a splashing good time on our splash pad.  It's safe and it's free.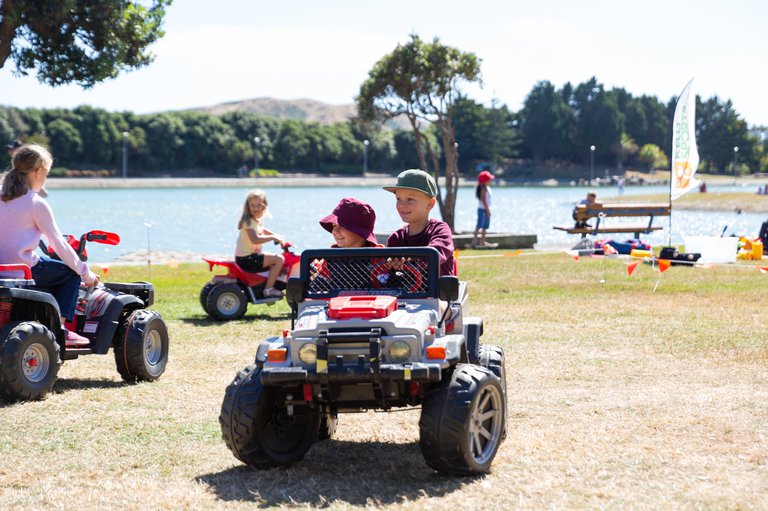 Children's Day
The day is all about supporting and nurturing our tamariki, honouring their mana and putting them first. What better way to celebrate Children's Day than with a free event at Aotea Lagoon, packed to the brim with fun. Held on the first Sunday of March each year.
Rule the roost at the Aotea Lagoon Fort
You can be the king or queen of the castle at Aotea Lagoon in our amazing fort and playground.  We have playground equipment to suit all ages - from crawlers and toddlers learning to walk to dare-devil tweens and teenagers eager to show their talents on the climbing rope tower. Head to the northern end of the lagoon for a piece of the action - and be sure to bring a picnic with BBQ and tables free for use.  
Enjoy a coffee in one of the picnic spots overlooking the lagoon, get fit jogging around the path, explore the rose gardens, take some artistic photographs of the Aotea Lagoon windmill, or boogie the evening away at one of our summer concerts.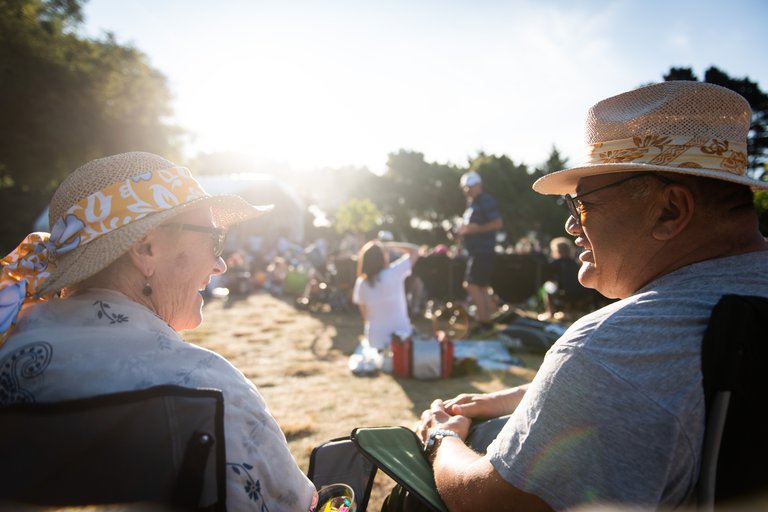 Summer Concert series
Grab a picnic, put on your dancing shoes and head on down to Aotea Lagoon's rose garden for Porirua City's popular Summer Concert Series! Enjoy a few relaxed summer evenings of music at our four free shows. Summer Concert Series takes place over Wellington Anniversary weekend.
The Aotea Lagoon rose garden at the southern end is home to 18 varieties of roses that provide a stunning setting for summer weddings and weekend outings. The large lawn area provides a perfect backdrop to the rose garden creating a peaceful spot to relax and unwind in, and have a picnic. 
The Butterfly Walkway at the north end of the lagoon features butterflies to represent change, transformation and hope.  More than 128 plaques have been laid so far to commemorate children who have passed away.  See the Butterflies Walkway Porirua website for more information.
Imagine having your very own island – you can at Aotea Lagoon!  The island is available for hire and is perfect for open air events or functions under a marquee. 
The island provides you with 1400m2 of flat land for events that is easily accessible by a short bridge from the middle gateway on Papakōwhai Road.

It has the added benefit of single phase power for lighting and sound systems and three phase power for portable temporary kitchen use.  The cost of reasonable usage of electricity is included in the hire fee.
Read more about our parks and reserves for hire or get in touch with us by email: enquiries@poriruacity.govt.nz.
The popular miniature train service at Aotea Lagoon runs most Sundays (weather permitting) from 12 noon to 3pm. In summer it runs from 1pm to 4pm (weather permitting).
Rides cost $2.50 (children aged three and under are free). You can buy tickets from the station at the southern end of the lagoon. Each ride includes two circuits of the park and takes about 10 minutes. The service is run by the Lions Club of Aotea Railway.