You can find out useful information on here such as the upgrade to the treatment plant, where it is safe to swim, and links to Wellington Water pages of relevance, including the upcoming 'roving crews' project that will be testing the Bay's pipe network.
Planning for a central storage tank
For a healthier harbour and coastal waters, we need to reduce the amount of untreated wastewater overflowing from the network. Overflows happen when wet weather increases the amount of water flowing through the network beyond the amount the pipes can carry.
To reduce overflows, we're planning to build a new storage tank in central Porirua, located north of the railway station.
Read all about it here
9 June 2021 - Information evening on Wastewater Treatment Plant consenting process – response from Council and Wellington Water. Download it here
A community hui was held in Titahi Bay on 29 March 2021. Here's a copy of the presentation
Before you head to the beach, you can check out lawa.org to find out the current status of beaches across Porirua City.
Titahi Bay's pipe network will be inspected in the coming months as part of a project, called Knowing your Pipes, to improve water quality in the region.
The project in Porirua, led by Wellington Water, will involve crews checking pipes in the public and private network.
Some homeowners in Titahi Bay will receive letters shortly, outlining the project, which includes low-risk smoke testing and dye tracing.
Homeowners are responsible for the pipes from their home to the property boundary. If there is any cost to fix faults on private property, Porirua ratepayers will be able to apply for assistance to spread the cost via Porirua City Council rates from 1 July.
You can read more about the project here.
How Council can help homeowners
We have developed a targeted rate to provide financial assistance to ratepayers if they are unable to pay for the required repairs up front
When a notice to repair has been given, the property owner has 3 months to sign-up for a targeted rate contract agreement
Repairs under the targeted rate will be managed by Wellington Water
The assistance allows yearly repayments of $500 (plus GST) until the cost is repaid in full. This amount will be included as part of your normal rates assessment
If a property owner sells the property and there is an outstanding amount the total amount owing must be repaid in full prior to sale
For further details please refer to Part 9 Rates Postponement to Fund Repairs to Private Stormwater and Wastewater Pipes of our Rates Remission and Postponement Policy
Wastewater Treatment Plant
The combined population of Wellington, Lower Hutt, Upper Hutt and Porirua produce about 145 million litres of wastewater every day. This water is treated at one of four plants - two in Wellington, one in Porirua and one in Lower Hutt - before being returned to the environment.
There is an extensive upgrade of the plant under way. See news releases below, which contain plenty of information.
News from Wellington Water
16/12/2020 Work begins on upgrading the Porirua Wastewater Treatment Plant: with the installation of new ultra-violet (UV) disinfection equipment that will increase the volume of wastewater that can be disinfected. Read more here
26/05/2020 Progress on reducing pollution in Titahi Bay: Here's a look at the programme of work underway to improve Porirua's wastewater network, that will help reduce pollution on the coast at Titahi Bay and in the Harbour.
07/04/2020 PCC lodges treatment plant upgrade plans: Porirua City Council today formally lodged plans to upgrade and improve the Porirua wastewater treatment plant, taking the next step towards improving the health of Porirua's coastal waters.
12/11/2019 Community learns about wastewater improvements: It was great to see more than 100 locals turn up to our open days this month to learn more about and share their views on planned improvements to Porirua's wastewater system - and to experience a guided tour of the wastewater treatment plant.
Porirua Wastewater Programme
Any water that goes down the toilet, sink or any other drains in your home is wastewater. To find out where it goes, watch this video: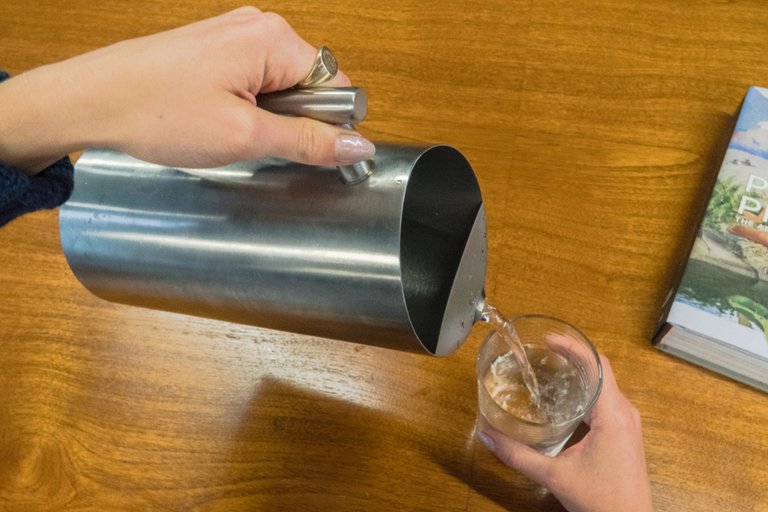 Key issues facing our city with regard to the three waters: drinking water, wastewater (all the water that goes down our sinks and toilets) and stormwater (rain water that runs off our roofs and streets).
---
Water quality at Titahi Bay
Wellington Water are regularly monitoring and measuring water quality at Titahi Bay (and other points around the coast and in the harbour).
Click here to go to the dedicated WW page on sampling, network status and treatment plant status in Titahi Bay.
How the testing works

To assess whether Titahi Bay is safe for swimming, independent contractors take measurements as part of the Greater Wellington Regional Council regional bathing site sampling programme (which is called Baywatch). These samples are correctly taken knee-deep in the sea (0.15 metres from the surface).  They have also been sampling at the outlet of the South Beach access culvert.
In addition, there is a separate testing programme required by the treatment plant consent, that monitors the discharge from the plant.  These samples are collected and analysed by an independent lab to the satisfaction of the regulator, Greater Wellington Regional Council. The results from the testing programmes reinforce our assessment that the contamination at Titahi Bay is coming from the pipe network, not the plant.
If you have questions please contact Poriruawastewater@wellingtonwater.co.nz
---
Boat sheds are normally used to store boats and their associated paraphernalia. But in the Wellington region, many people have set up home in their sheds to better enjoy coastal life. In the past this practice was low key and councils tended to turn a blind eye to it. But there are not a lot of coastal areas around Wellington and Porirua that are suitable to launch boats from so, by the 1990s, residential use of boat sheds had started to squeeze out the number of boat sheds available for storing boats.
Any sort of building on the foreshore restricts public access to and along that piece of coast. This is contrary to the principles of the Resource Management Act. On top of that, most boat sheds don't have toilets connected to a sewer. The Council now requires resource consents from people wanting to stay in their boat sheds, and is taking enforcement action against those people who break the rules.
Find out more on the Greater Wellington Regional Council website.
News release from 28 February, 2020, on improving water quality in Porirua here.
More information coming soon on roving crews checking pipes in Titahi Bay.