The Porirua Development is a partnership between the Crown, Kāinga Ora, Porirua City Council, iwi Ngāti Toa Rangatira and the community. At the time of the 1 November 2018 announcement, the Crown's interests were represented by HLC, a subsidiary of Housing New Zealand. From 1 October 2019, HLC, Housing NZ and KiwiBuild will all come under the umbrella of a new Crown entity, Kāinga Ora – Homes and Communities.  
The eastern Porirua development will see the Government invest in 2000 state houses (replaced or refurbished) and deliver 2000 affordable and market homes. The project includes redesigning neighbourhoods, revitalising local centres, upgrading parks and providing warm, dry, healthy homes for Porirua families. The project has a budget of $1.5 billion over 25 years. 
The government will work alongside Porirua City Council, iwi Ngāti Toa Rangatira and the community to make eastern Porirua a better place to live, work and raise a family by:
replacing older state homes that are past their best with warm, dry modern homes that are better suited to tenants' needs 

building new affordable, market and KiwiBuild houses

improving neighbourhood design, including upgrading parks and streets, to make it easier to get around eastern Porirua, and do business 

providing the community an opportunity to think about their future education needs and

creating jobs for locals. 

It is very early days in what will be a 25-year project, with most details still to be worked out. All those who call eastern Porirua home – residents, businesses and community organisations – will have a role to play in helping plan eastern Porirua's future.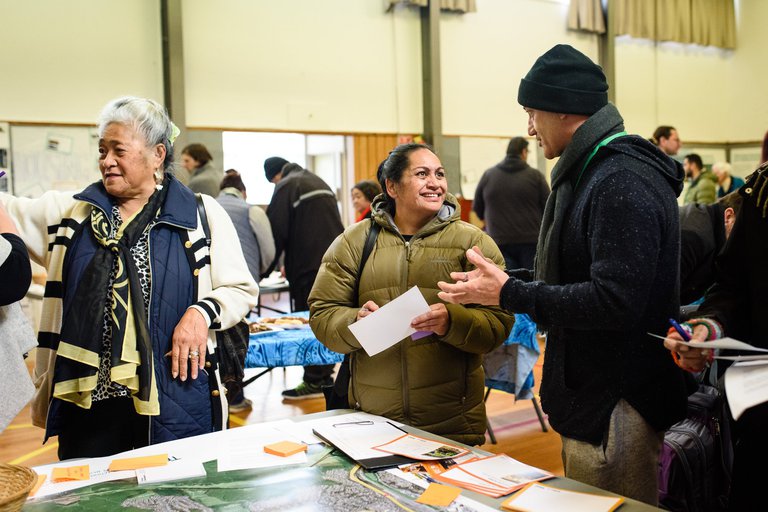 An independent advisory panel, Te Pae Whakahou Hapori (I Porirua Ki Rawhiti) – Eastern Porirua Regeneration Independent Advisory Panel (Te Pae), has been established to hold the vision and objectives of the project, and to make sure the desired outcomes are delivered.
Planning process for eastern Porirua
Changes to the planning rules and framework to support the wider regeneration work in eastern Porirua will now go through Porirua City Council's city-wide District Plan Review process.

Kāinga Ora, in partnership with Porirua City Council, was looking to use a Streamlined Planning Process (SPP) to enable the delivery of the work in eastern Porirua, but have decided to seek these changes through the city-wide District Plan process. This is due to changes in a number of factors since the original decision to use SPP was made, including a reduction in projected time savings. This decision has been informed by, and undertaken alongside, discussions with Council officers.
 
Kāinga Ora is committed to working closely with Council on its city-wide proposed District Plan process to ensure that planning provisions will enable the objectives of the regeneration project to be delivered. The proposed District Plan is scheduled to be notified for public submissions in the coming months. You can read more about Porirua City Council's District Plan timeline and process here

Te Pae whakahou Hapori (I Porirua ki Rawhiti) – Eastern Porirua Regeneration Advisory Board Panel (Te Pae/the Board) will has been established to hold the vision and objectives of the eastern Porirua Development, to make sure the desired outcomes of the project are delivered.
Members of Te Pae have been appointed by the responsible Minister on behalf of the strategic partners and will provide independent monitoring, advice, advocacy and liaison to the three partners. Te Pae is made up of seven members: Ranei Wineera-Parai (Chair), Maria Uluilelata, Danny Mareko, Shayne Warren, Tuaine-Nurse Robati, Lynell Huria and Simon Phillips.
 
Te Pae hold the delivery entities to account to ensure that they are delivering on the objectives in an integrated and timely manner. Te Pae will be serviced by a small secretariat and report through to the responsible Ministers, Porirua City Council and Te Rūnanga o Toa Rangatira Inc (Ngāti Toa). It is intended that Te Pae remain in place for the entire length of the project.