August 2023
Constructing a permanent roundabout
We're looking at constructing a permanent roundabout at James Cook Drive/Discovery Drive intersection.
This follows the successful trial of a temporary roundabout at this location, which was completed in October 2021.
The changes at this intersection were made prior to Transmission Gully (TG) opening, in consultation with local residents and the residents association in anticipation of:
increased traffic in the area following the opening of TG, and the development growth that has occurred over the past few years
the major traffic flow changing from Discovery Drive – James Cook Drive North to along James Cook Drive
With uncertainty as to what the new traffic volumes would actually be, a temporary roundabout was put in place to trial a design. Now that TG is open we're able to monitor traffic flows and make any necessary adjustments to the intersection design before making it permanent.
This is required for a number of reasons:
Permanent kerbs, including traffic islands, provide storm water drainage control that the temporary features can't provide (and poor drainage results in ongoing pavement damage which just incurs further costs)
Errant vehicle's hitting temporary features changes the safe flow and necessitates ongoing repair which is significantly reduced with permanent features (e.g. plastic kerbs vs concrete kerbs)
Meets minimum geometric design standards which is not possible with temporary features
Urban design aesthetics (imagine a city of temporary improvements with a plethora of cones and hit-sticks)
Will pass a Safe Systems Audit which ensures Waka Kotahi NZ Transport Agency, who fund 52% of this project, will pay their share of current and future costs
Will include additional safety features such as improved intersection lighting (which can only be designed after the final intersection layout is confirmed).
This image shows the temporary roundabout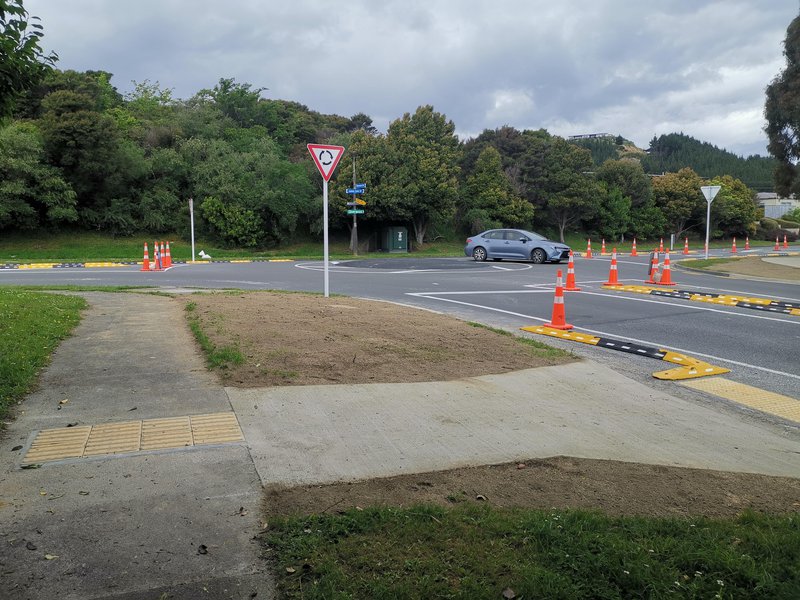 Roundabout preferred option
In 2020 we ran public consultation around a number of improvement options, with the favoured option, a roundabout, being supported by the majority of those who gave feedback.
Waka Kotahi NZ Transport Agency (NZTA) modelling estimates that 5000 vehicles are expected to use the intersection daily once Transmission Gully opens. This is up from around 4500 vehicles currently.  Further modelling suggests that by 2031 the number of vehicles using the intersection each day could rise to 6000.
Just two non-injury crashes have been reported at or near the intersection in the past 10 years
Following the opening of Transmission Gully and the Whitby link road, traffic modelling has projected that a roundabout will operate well during the morning peak period with only minor delays during the evening peak period
Looking forward to 2031 it is projected that a roundabout will operate well during peak periods with only minor delays expected on the James Cook Drive southern approach during the evening peak period. Early cost estimates for this project were between $250,000 and $300,000
Advantages
Balances traffic flows evenly on all approaches during peak periods.
Reduces vehicle speeds
Safer pedestrian crossing facilities can be introduced
Performance beyond 2031 is acceptable
Safer for cyclists