Construction complete on Whitby temporary roundabout
A temporary roundabout has been constructed at the intersection of James Cook Drive and Discovery Drive to improve this intersection to handle the increased traffic expected following the opening of Transmission Gully and the associated Whitby link road.
Construction was completed in late October 2021 as planned.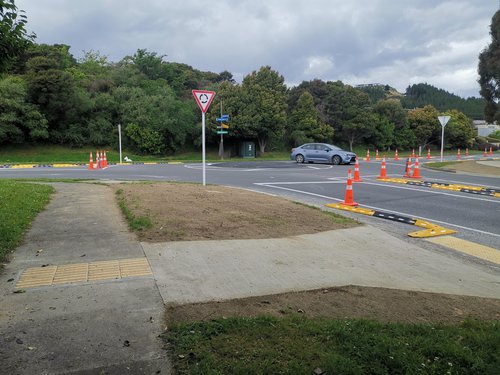 The temporary roundabout will be monitored and adjusted as required before funding is sought to make it a permanent feature.
Roundabout preferred option
In 2020 we ran public consultation around a number of improvement options, with the favoured option, a roundabout, being supported by the majority of those who gave feedback.
Waka Kotahi NZ Transport Agency (NZTA) modelling estimates that 5000 vehicles are expected to use the intersection daily once Transmission Gully opens. This is up from around 4500 vehicles currently.  Further modelling suggests that by 2031 the number of vehicles using the intersection each day could rise to 6000.
Just two non-injury crashes have been reported at or near the intersection in the past 10 years
Following the opening of Transmission Gully and the Whitby link road, traffic modelling has projected that a roundabout will operate well during the morning peak period with only minor delays during the evening peak period
Looking forward to 2031 it is projected that a roundabout will operate well during peak periods with only minor delays expected on the James Cook Drive southern approach during the evening peak period. Early cost estimates for this project were between $250,000 and $300,000
Advantages
Balances traffic flows evenly on all approaches during peak periods.
Reduces vehicle speeds
Safer pedestrian crossing facilities can be introduced
Performance beyond 2031 is acceptable
Safer for cyclists
Q&A
Please find below answers to common questions that were asked by residents in feedback.
Q. What are the forecasted traffic volumes using the intersection during morning and evening peak periods?
A. Following the projected opening of Transmission Gully and the associated Whitby Link Road in 2021, it is estimated that around 500 vehicles will travel through the James Cook Drive/Discovery Drive intersection during the AM and PM peak hour periods. This number is projected to increase to 600 by 2031.These peak hour vehicles volumes represent 10% of the daily traffic volumes projected to be using the intersection in the future.
Q. Is it possible to introduce two lane approaches as part of the roundabout design to improve traffic flow at busy times?
A. Intersection modelling demonstrates that a roundabout with single lane approaches will operate well and continue to do so to beyond 2031. It is crucial that the risk of crashes occurring at the intersection is reduced. This is achieved by encouraging reduced speeds on approach to the roundabout through a variety of design techniques. The introduction of two lane approaches makes it much harder to reduce speeds through design and does little to improve safety. It is also not warranted as vehicle delay and associated congestion are projected to be manageable with the existing proposed layout well into the future.
Q. What consideration has been given to cyclists and pedestrians using the intersection?
A. As covered briefly above, a key driver in upgrading this intersection is to better manage and improve safety for all road users. This will be achieved through a design that keeps speeds below 30km/h at the roundabout. This will reduce the risk for cyclists and allow them to share the road more safely with vehicle traffic. We will also look at using road markings to indicate to drivers that cyclists may be present at the intersection. The option for a bypass for cyclists will also be investigated. Crossing points for pedestrians will be provided on all approaches at a safe distance away from the roundabout. These crossings will feature central refuge islands and hold rails to allow pedestrians to cross the road in two goes, which is particularly important for the mobility impaired and elderly.
Q. How will the side roads along James Cook Drive & Discovery Drive be affected following the intersection upgrade and the opening of Transmission Gully?
A. It is anticipated that reducing vehicle speeds and balancing traffic flows at the roundabout will provide sufficient gaps in traffic flow to allow vehicles on the side roads to safely join the main traffic flow. The roundabout will be instrumental in improving traffic flows through the intersection, as it stands currently.

If you have any questions, please contact Porirua City Council Customer Liaison Manager (Transport) Claire Giblin claire.giblin@poriruacity.govt.nz